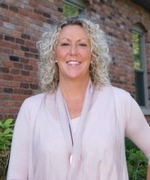 Oliver & Associates Real Estate Brokerage Inc. 
Christy is a respected realtor in the community and possesses 25 years of service within the industry. She has a proven track record and is committed to unparalleled service and provides the very best assistance in selling or buying residential, multi-family, condominium, commercial or investment properties in London and Southwestern Ontario. 
Christy offers her expertise as a Broker while also assuming additional leadership roles within Oliver & Associates and the London St. Thomas Association of Realtors. She has been chosen by her peers to be on the Board of Directors for LSTAR and is the chair of the Diversity, Equity & Inclusions task force. As well as being on the Education Committee, she is also an educator for LSTAR. 
Christy is not only someone who you want helping you negotiate your next purchase, but she is also someone who you want to have helping you grow your own business. She is a committed mother of two adult children who are active in the community, she works hard for her clients as well as the many agents that work at Oliver & Associates. 
Her smile is her LOGO, her personality is her BUSINESS CARD, and how she leaves you feeling after an experience with her, IS HER TRADEMARK. 
What does Christy stand for... 
Honesty, Integrity, Loyalty, Trust and Respect 
Fulfilling dreams, one home at a time!!!